Here you'll find recommendations of great comics written/drawn by women. This list isn't even near being complete, but if you can't find women artists in the superhero wastelands of your local comic shop, ask for those artists, they are definitely worth reading. I hope to include some more in-depth reviews later, for now it's mostly just names with a few selected works.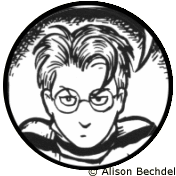 Alison Bechdel's long-running classic 'Dykes to Watch Out For' is a hilarious chronicle of everyday lesbian life. You can find some of her newer strips on-line, but I highly recommend the collections published by Firebrand Books. And she doesn't only draw DTWOF. Look for older issues of 'Gay Comics' (like #19), and you'll find more of her comics.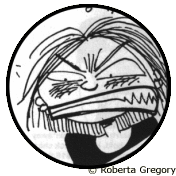 Roberta Gregory is best known for the series 'Naughty Bits'. Her Bitchy Bitch and Bitchy Butch are definetly not to be missed. Funny, intelligent, feminist... Simply great entertainment. Bitchy Butch is published in irregular intervals in 'Gay Comics' (like #21) and appears as a guest character in Naughty Bits. There are also several convenient trade paperback collections, if you don't want to hunt down back issues of 'Naughty Bits' and 'Gay Comics.'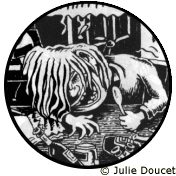 Julie Doucet's comics are weird (in a good sense): full of details, bodily fluids, and dream sequences. Recently her stories developed longer, less surreal plots, but still very good reading. Try her series 'Dirty Plotte'(#1-12), by Drawn&Quarterly. You could also look for issues of her original fanzine with the same name. There are a number of trade paperbacks, also published by D&Q: 'Lève ta jambe mon poisson est mort!' (it's in English despite the French title), 'My Most Secret Desire', and 'The Madame Paul Affair.'

I haven't read a lot of Phoebe Gloeckner's comics, but I liked what I read in the two 'Twisted Sisters' anthologies (which you can get only used at this time, afaik, but they're worth looking for) and the few issues of 'Wimmin's Comix' that I managed to find so far. They deal with heavy subjects like child abuse, though.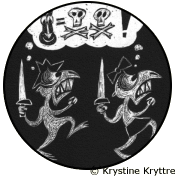 So far I've only found Krystine Kryttre's comics in the 'Twisted Sisters' anthologies. I really like her expressive and energetic style.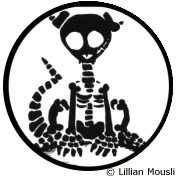 Lillian Mousli publishes in German, but some of her comics, e.g. 'Stray Cats' are available in English, published by Slave Labor Graphics. Her stories are sometimes dream-like, their meaning isn't always obvious. Some read like fairy tales, but like the original dark and sometimes cruel version, not the Disney one. But her comics are funny and poetic, too.
At the moment her comics 'Teufel,' 'Liebe in Zeiten der Drachen,' 'Lilli & Poldi,' 'Die Augen der Angst' (all published by Jochen Enterprises), and some other scattered works are available in German only.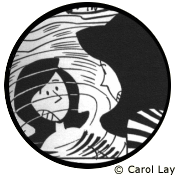 Carol Lay has some of her Story Minute strips online. There are books available with reprints of that strip. But you shouldn't miss her contributions to the 'Twisted Sisters' anthologies, either.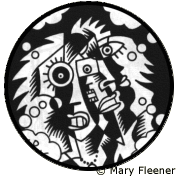 Mary Fleener's style incorporates abstract elements, actually it's the closest I've seen a comic come to being cubist, and it took me a couple of pages to get into it, but then it conveys emotions and atmosphere at least as well as a more realistic style. Look for her comic 'Slutburger'(#1-5), published by Drawn&Quarterly, her collected authobiographical comics in the tradepaperback 'Life of the Party', published by Fantagraphics, and again (surprise <g>) the 'Twisted Sisters' anthologies.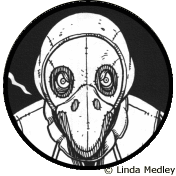 You should read Linda Medley's 'Castle Waiting' (available from Cartoon Books) even if you normally don't read fantasy. The characters are unique fairy tale characters with a twist, they are original and funny. Besides the artwork simply blows you away. Did I mention the enthralling storytelling?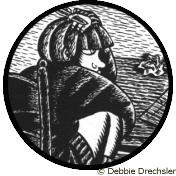 I've read Debbie Drechsler's work in the second of the 'Twisted Sisters' anthologies, the 'Best of D&Q anthology,' and in Drawn&Quarterly Vol.2 #5. I'm quite sure I have a copy of 'Daddy's Girl' (published by Fantagraphics) somewhere in my collection, if now I could just find it... Her work like Phoebe Gloeckner's deals often with abuse, although their style is really different from each other.

Isabel Kreitz does great genre comics, especially horror and crime, for example Mabuse or the short stories she did for Kurzer Prozess #3, but is in no way limited to that. She's done humorous cartoons like Heiß und fettig, social dramas dealing with neo-nazism, like Ohne Peilung, novel adaptions, like Die Entdeckung der Currywurst based on the novel by Uwe Timm, among other things. I have no idea if any of her work is available in translation, though.

I hope you have fun with these comics. BTW if you know artists you'd like to recommend, mail me their names. I'm always looking for new interesting comics.